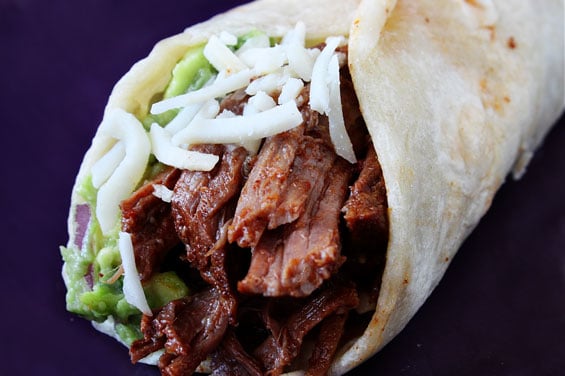 These look pretty amazing!!! I've made these once before and they were fantastic! I'm bringing this recipe into the rotation this week, especially since the Chuck Roast is on sale at Henry's for $4.49/lb...which I think is a good deal? Someone tell me if I'm wrong :)
This Friday we're having a lovely dinner guest. She has quite the palatte as she has traveled all around the world and enjoyed lots of authentic meals. This friend also introduced us to the Rolando neighborhood restaurant that has authentic Mexican food,
Carnitas Las Michoacanas
. They are located on University Avenue near Aragon Drive. Their food was AMAZING! and very affordable! I may stop by and get some of their authentic ;) salsa for our little dinner party.
I love having dinner guests...but I am a little nervous for this one! We love sharing our stories with people and love to hear theirs. Our friend does not know Jesus, but we hope and pray that she gets to see a glimpse of Him during our time together. I'm nervous because I've definitely struggled with the idol of approval and desiring to please people. I want our friend to feel welcome, see our life, and feel like she can come over any time...but I'm also tempted to try and win her approval. We do have an age gap of about 53 years...so she may know a thing or two that I don't ;)
In the area of hospitality, people pleasing looks like this.. I am cleaning the house (for hours) in a frenzy to make it look clean and "perfect" for our guests, sometimes even getting grumpy (no way!) at people who get in the way or things that disrupt my "perfect plan". Every other day, our house is less than perfect. We have messes...we have piles...I'm embarrassed to even say it, but it can just get cluttered some times! I do believe that "everything has a home," but that's for another post ;) My version of "perfect" presents a problem for the guests who come...they see a performance that I put on for them, not the every day life. This can often put unnecessary pressure on them to perform the next time we visit them and pressure on myself to perform just as well as I had the previous times. I definitely don't want that!
When we've had friends come over in the past, I've always tried to clean really well and hide the messes. It's not that it's a bad thing to clean-up...in fact, I'm learning to clean-up more consistently to maintain, but, if it's only to impress others or get their approval, it becomes sin. If you've been to my house recently it has been less than perfect...and I'm okay with that (and I hope you are too haha). I am still growing in this area though. I'd like to say that if you called last minute and let me know you were stopping by, that I wouldn't be embarrassed by the pile of dishes in the sink...from two nights ago...but, sometimes I still get embarrassed or try to clean-up real quick before you get here. I would rather just invite you in, with complete joy, and a sink full of dishes, then turn away an opportunity to potentially encourage and spend time with you.
Over the past few years I feel like God has taught me a lot about this. Our home should be a place where people can drop by on a whim, come in, feel welcome, and stay at as long as they like. They can use our things...even break them, and we should be okay with that. We are called to be good stewards of the gifts he has given us...but like we're always saying to kids who are having trouble sharing..."Who does that toy belong to, Eleanor?" "Jesus!" All of our things belong to Jesus and we get the joy of being a blessing to others.
All of that to say, I am excited to have our friend join us, and excited to not be consumed with our house being perfect or "nice" enough for her standards, so much so that it distracts me from loving, serving and encouraging her. I was reading just yesterday in 1 Thessalonians 2:4 "...but just as we have been approved by God to be entrusted with the gospel, so we speak, not to please man, but to please God who tests our hearts." I don't need to try and please our friend...I just need to please God! woohoo!
thanks for reading all of that ;)
love love love,
Meg
ps. What's for Dinnner? next week: this tasty looking salad may be a good end to our summer...it's still a toasty 90 degrees here in San Diego! I'm going to enjoy this refreshing salad, and hope that fall comes soon!!! and by "fall" in San Diego, I mean...pumpkin spice lattes, watching Pride and Prejudice and Little Women, boots with tall socks, and semi-pea coats.